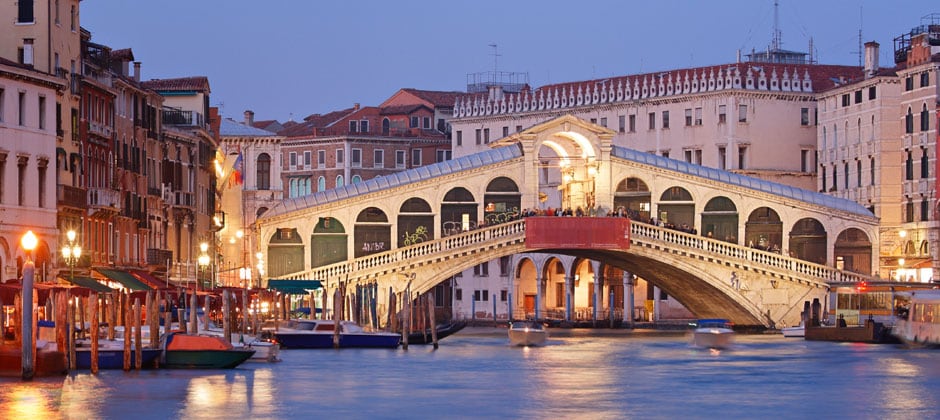 Itinerary 2 – second day in Venice
A second proposal, exploring a less touristic Venice.
For those who want to discover the hidden face of Venice, we would like to suggest a walk from the Hotel Carlton on the Grand Canal which leads to Lista di Spagna, crossing the Scalzi Bridge. Here you can find numerous shops and bazaars with Venetian specialities.
On reaching Campo San Geremia, you can visit the Church of San Geremia where the body of Saint Catherine is preserved, one of the most well-known and most venerated saints of Christianity. You can also admire the works of Palma the Younger and Giovanni Maria Morlaiter.
Cross the famous Spire Bridge (Ponte delle Gulie), first built in 1285, and go ahead towards Strada Nova where there is a characteristic open air fish, fruit and vegetable market, frequented by Venetians and second only to the more famous Rialto market. You will appreciate the perfumes and lively colours, further on after about 200 metres the street bi-sects – go left and you will reach Fondmenta degli Ormesini.
From here it will be easy to reach the Church of Madonna dell'Orto, a splendid example of Venetian Gothic housing ten paintings by Jacopo Robusti, known as Tintoretto, who lived nearby in Campo Dei Mori and whose mortal remains have been laid to rest in this really beautiful church. You can also admire works by Palma the Younger, Cima da Conigliano and Giovanni Bellini.
You simply have to take some photos of the statue in Campo Dei Mori which takes its name from the owners of a nearby mansion and who legend says were turned into stone by their avidity. You can reach Campo dell'Abbazia nearby and enjoy a little of the magic and fascination of Venice. Follow the direction to Fondamente Nove passing by the Scuola Grande della Misericordia and stop to take a photo of Chiodo Bridge, the last bridge in Venice without walls, and probably one of the most photographed.
From Fondamente Nove take motorboat (line 5.2 or 4.2) and return to the Hotel