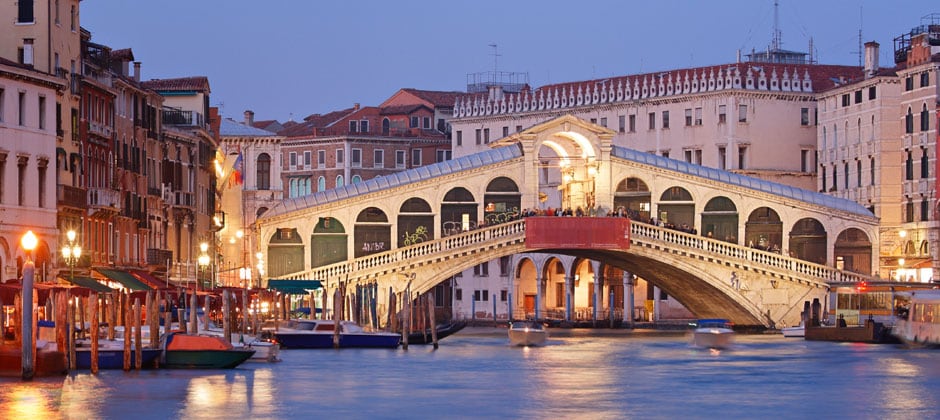 Itinerary 1 – One day in Venice
If you can only stay one day in Venice, we propose the following itinerary:
From our hotel follow the street signs on foot to Rialto, or reach Rialto by waterbus line 1. Wander through the Mercerie, the most fashionable street in Venice together with Calle Larga XXII Marzo, and reach St. Mark's Square, one of the most beautiful squares in all the world.
St. Mark's Cathedral, the greatest architectural witness of the Byzantine-Venetian tradition. The interior of the church is completely covered with marvelous mosaics covering more than 4,000 square metres including the pavement, the walls and the dome. (Visit of St. Mark's: 1 hour)
St. Mark's Bell Tower: an incomparable view of Venice from the top.
The Ducal Palace. A magnificent example of Venetian Gothic, residence of the Doge but also the seat of government and magistracy. See the Prisons, the Armoury, the Hall of the Major Council, an enormous room containing the portraits of the first 76 Doges, and the incredible work 'Paradise' by Tintoretto, one of the largest paintings in the world.
From St. Mark's by waterbus line 1 you reach another Cathedral, Basilica della Salute, a most original white Baroque structure built by the architect Baldassare Longhena to commemorate the end of the Plague of 1630. Near to la Salute there is Punta della Dogana from where you can admire completely different view of St. Mark's Basin and snap breath-taking photos. From here go towards the Academia Gallery, one of the most prestigious art galleries in Italy. To return to the hotel, follow the signs for Ferrovia (the railway station) and you will pass through the lively Campo Santa Margherita; as it is near the University Ca'Foscari, the square is full of bars and cafés and there are always lots of people there. Carry on towards Scuola Grande of St. Rocco, famous for its painting by Tintoretto and then back to the Hotel Carlton where we'll be ready to revive you will an excellent dinner.