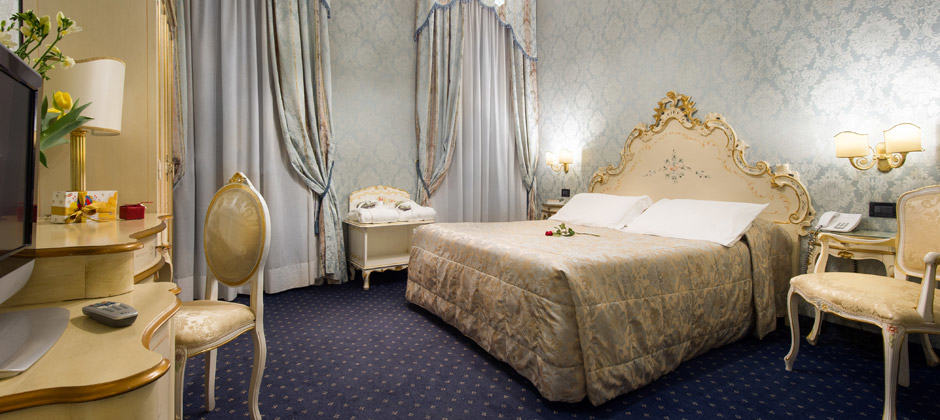 Superior Double Room Overlooking The Grand Canal
A breath-taking view of the Grand Canal, the gondolas, the myriad reflections on the placid water. A unique and unforgettable memory. Moments to share for a perfect experience together.
Description & Amenities
All these rooms overlook the Grand Canal. The furniture is in the Venetian style of the 1700s, the precious curtains and wall covering in silk damask and the Murano glass chandeliers which decorate the ceiling give an atmosphere of other times, elegant and refined.
The rooms overlooking the Grand Canal can have either a double or twin beds. They are equipped with satellite colour television, flat screen and radio, free Wi-fi, safe, air conditioning, direct telephone and mini bar. The private bathroom with either bath or shower is equipped with a hair drier and a courtesy set of toiletries, personalised CHC.
Free Wi-fi
Satellite colour television flat screen radio. All the main Italian channels, German ZDF and Eurosport, English BBC and CNN, French TV5, Spanish TVE, Russian TV, Chinese CCTV and Japanese JSTV1.
Safe
Air-conditioning (in the summer) and heating (in the winter)
Direct telephone
Mini bar