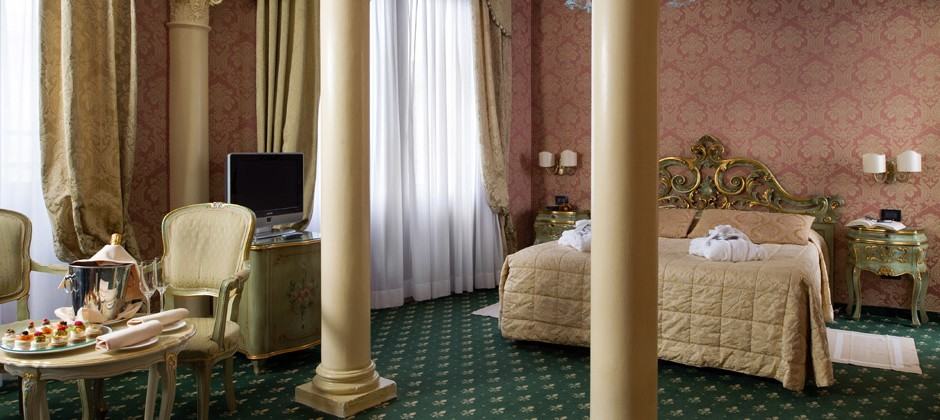 Junior Suite Overlooking The Grand Canal
For an intense shared experience. The perfect frame for a magical and romantic stay. A jewel of decoration and comfort. A fabulous view of the Grand Canal.
Description & Amenities
The Junior Suite overlooking the Grand Canal is our pre-eminent Suite – romantic, panoramic. It has a small sitting room separated from the bedroom by four marble Corinthian columns. The furniture in the Venetian style of the 1700s, the precious curtains and wall covering in silk damask, the Murano glass chandelier which decorates the ceiling give an atmosphere of other times, elegant and refined.
Four large windows provide generous natural light and a stupendous view of the Grand Canal.
It is equipped with satellite colour television, flat screen and radio, free Wi-fi, safe, direct telephone, mini bar and air conditioning. The private bathroom with bath is equipped with a hair drier and a courtesy set of toiletries, personalised CHC.
Free Wi-fi
Satellite colour television flat screen radio. All the main Italian channels, German ZDF and Eurosport, English BBC and CNN, French TV5, Spanish TVE, Russian TV, Chinese CCTV and Japanese JSTV1.
Safe
Air-conditioning (in the summer) and heating (in the winter)
Direct telephone
Mini bar