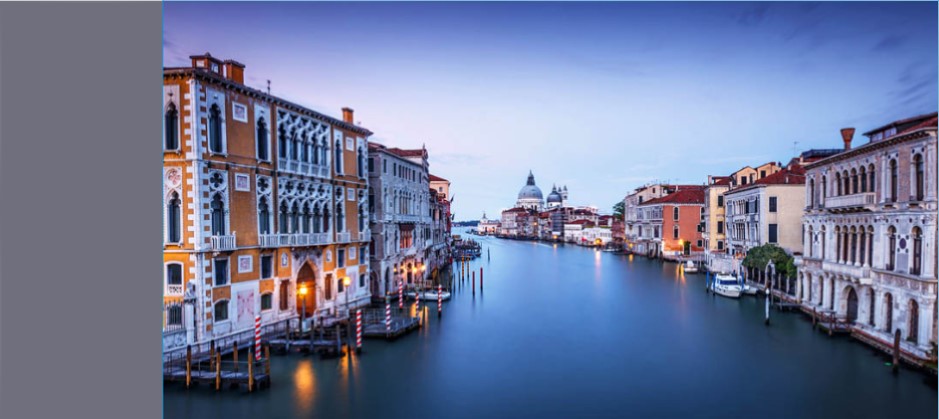 Bridge means Venice, Grand Canal means heart
A bridge connects like a handshake between two persons. A bridge sews tears up, cancels emptiness, approaches distances.
THE FOUR BRIDGES ON THE GRAND CANAL
Majestic and famous around the world, the Grand Canal is the long waterway that runs from Piazzale Roma to Punta della Dogana. 
Venice seen from above has a big fish shape and the Grand Canal, about 4.2 km long, divides the city in two. The Grand Canal has a water depth from 3 to 5 meters and it is crossed by only four bridges.
The most recent and most contemporary one is the bridge of the Constitution (or Calatrava, named after the famous architect who designed it). It links Piazzale Roma (the car / bus terminal) to the train station Santa Lucia.
Close by, you can find the bridge of Scalzi  (which takes its name from the nearby Church of "Scalzi"  - "Discalced" Carmelite friars that used to wear sandals without socks).
Both these bridges are located a short walk from the Hotel Carlton on the Grand Canal.
Then there is the famous Rialto Bridge, the oldest and, until 1800, the only one which connected the two banks of the Grand Canal. It was initially built in wood and could also open up to let the galleys. Towards the end of 1500 it was rebuilt in stone with its actual aspect.
Finally, the Accademia Bridge built by Austrians in iron in the nineteenth century and then rebuilt in wood in later times.
All four bridges offer a wonderful view over the Grand Canal and the famous palaces and houses, which look onto it.