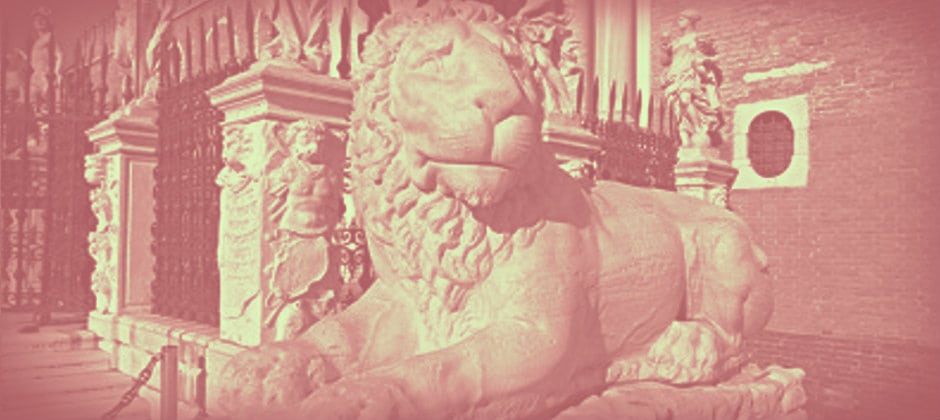 St. Mark's Lion
Wandering along the squares and little streets,  the winged lion is definitely the image that can be found more easily in Venice. There are so many of them! You can count up to 14 lions only  in St Mark's square!
 The lion of St. Mark is the symbolic representation of the Evangelist Mark who was chosen by the Venetians to protect and represent the city. The body of the saint is still buried in the Church of St. Mark.
  According to the legend, the saint's relics were stolen in 828 from Alexandria by two Venetian merchants , Rustico da Torcello and Buono da Malamocco . It is said that the two merchants hid the remains of the saint under a load of pork, so as to discourage inspection by the Muslim customs officials.
 f you would like to see as many as four lion statues in a row, just go to the Arsenal. The largest one is on the left , looking at the entrance, and it was brought to Venice as the spoils of war in 1692 . Originally stationed at the Piraeus harbor near Athens and it was a well-known monument since I or II century .
It still bears traces of the ancient runic inscriptions that some Scandinavian mercenaries engraved to remember the help given to the Emperor of Byzantium against a rebellion of the greek people in 1040
Have fun looking for them and take as many pictures  as possible!  Then share your pictures on our Facebook page!