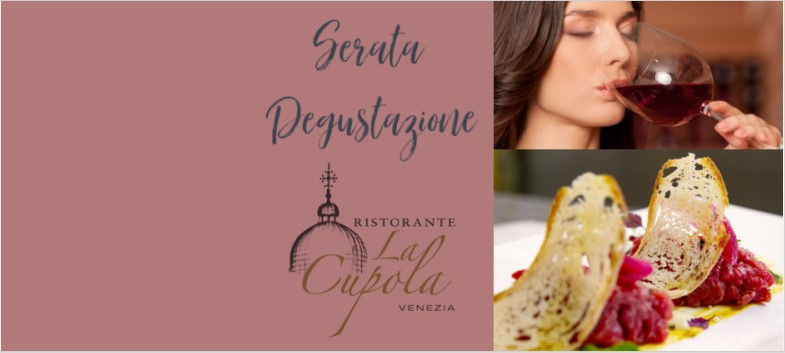 Four Special Fridays with Tasting Menu
Plunge into a paradise of delights with our tasting menu proposals, where the table is set for a sumptuous and enjoyable experience. Info and Reservation Tel. +39.041.2752200
 Special Evening with Tasting Menu
Plunge into a paradise of delights with our tasting menu proposals, where the table is set for a sumptuous and enjoyable experience.
See, taste, smell and overcharge your senses with our incredible tasting menu suggestions.
Experience either traditional and new tastes. Engage in wine appreciation and see delectable food garnishments in the distinct and welcoming atmosphere offered by our Restaurant La Cupola.
Four truly special Fridays!
Come and indulge your senses with our four-course-tasting menu proposals paired with as many wines. Inspired both by innovative cuisine, as well as by the genuine traditions of the Venetian and Italian territory.
Our Maitre will explain every single dish of the tasting menu prepared by Chef Cosimo Giampaolo in all its characteristics and peculiarities. He will lead you on a real journey through flavors.
Anna Cardin, the best sommelier of Italy in 2015 with FISAR, will expertly explain the delicious wines paired with the courses. We have opted for less known wineries but with a very high quality of wines.
Choose one of the four proposed evenings and you will discover with how much passion and skill our Chef and Sommelier have created the combination of each ingredient in the four tasting menus to obtain the perfect balance of flavors. A whirlwind of taste and pleasure for your senses.
Each evening will start at 7.45pm with a welcome drink and then move on to the real tasting experience starting at 20.30.
DATES:
Friday, 9th October 2020 – Menu "The colours of the Sea"
Friday 23rd October 2020 – Menu "The Flavors of the Sea"
Friday 13th November 2020 – Menu "Garden Flavors"
Friday 27th November 2020 – Menu "Lagoon Islands Flavors"
PRICE:
Euro 65,00 per person
Info and Reservations: https://shop.corihotels.it/product/special-evening-with-tasting-menu/