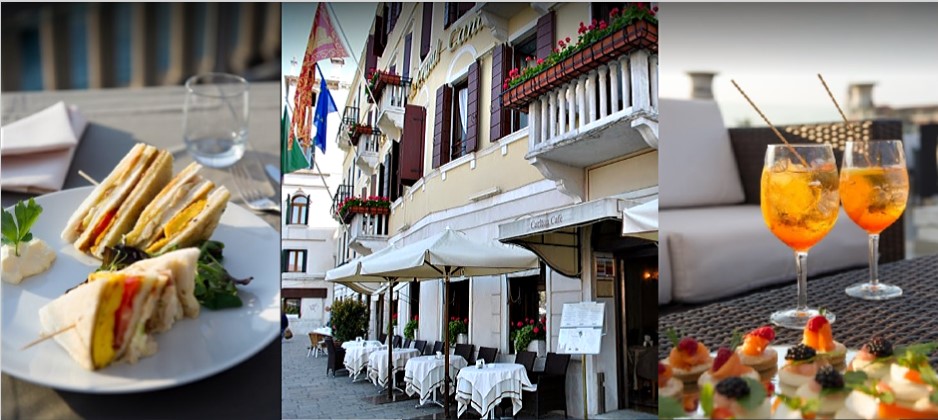 The Carlton Café reopens. Your bar on the Grand Canal
Finally, we are reopening!
A small step towards normal life!
The Carlton Café; your bar on the Grand Canal.
The Carlton Café reopens. Your bar on the Grand Canal
On Monday, 1st June the Carlton Café reopens with bar service and snacks / fresh salads.
We will provide our customers with both the comfortable indoor seating areas as well as improved outdoor coffee tables and spaces for alfresco dining, to ensure maximum safety and social distancing. A perfect location for you to spend relaxing moments immersed in the magic of the Grand Canal and watching Venice's everyday life go by.
The Carlton Café is your special place in Venice, pleasant at all hours. A bar on the Grand Canal a stone's throw from Piazzale Roma and the Santa Lucia railway station.
What is your favorite aperitivo spot? 
The Carlton Café of course! 
Come and taste our homemade Bellini Aperitif with fresh peach juice and Prosecco, or the Rossini with freshly squeezed strawberry juice. Choose from the classic Aperol Spritz or the freshest Hugo Spritz with elderberry and mint, and many, many other aperitifs to sip in the company of your friends.
So, who fancies a Long drink? 
Would you like a Mojito, a Cuba Libre, a Calipso, a Piña Colada, a Tequila Sunrise? 
Take a front row seat on the Grand Canal and enjoy the view, we'll take care of the rest!Our A' la Carte is very wide and satisfies all tastes.
Are you on coffee break? We are waiting for you at the Carlton Café with the enveloping aromas and flavors of our breakfast.
And why not take advantage of your lunch break to enjoy a splendid view of the Grand Canal? 
Our Chef's proposals range from the classic toast to the Club Sandwich with chips, to the fresh summer salad with mixed salad, melon, ham and mozzarella, or prawns, French beans and zucchini, and many other fresh and quick dishes ideal for your lunch break, a snack or a pit stop while visiting Venice.
Click here to see our A' la Carte
We are open:
Monday – Thursday    8.30am – 7.30pm
Friday – Saturday        8.30am – 8.00pm
Sunday                           9.00am – 7.30pm
All our areas have been sanitized according to current standards. The staff has been properly trained in this regard and will be equipped with safety devices.
What are you waiting for? 
Come and visit us! It will be a pleasure to see our old friends again and greet new ones. 
With all our passion, friendship, sympathy and our desire to start over again!
The Carlton Café, your bar on the Grand Canal.